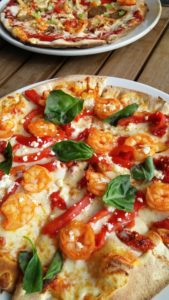 Healthier Recipes for Foods We Love!
I'll admit that tweaking recipes for healthier nutrition is one of my favorite hobbies. Really. It's fun to substitute whole wheat flour, cut down on the sugar, or add more fruit or vegetables, for example. Of course, I try not to overdo it because I want the final recipe to taste great. The 5 recipes below will give you a jump-start on learning how to tweak some excellent nutrition into recipes for foods that you probably already love. Trust me – you will not be sorry.
Pizza – Here's a surprising pizza that will make your taste buds dance. It has the most creative crust I've ever eaten.
Lasagna – Here's a tempting lasagna that is not loaded down with cheese but has plenty of light and healthy protein to fill you up.
Fries – Here's a twist on making fries, with sweet potatoes as the star.
Cookies – Here's a tasty cookie made with healthier ingredients and, yes, there is chocolate.
Pancakes – Here's a satisfying pancake with whole grains and everyone's favorite fruit, blueberries.
Learning to Make Healthier Recipes
It's not hard to start making healthier recipes. Read over your recipe, look for one ingredient to substitute with something more nutritious, and give it a try. Next time, try to substitute 2 ingredients with something more nutritious. It takes time to learn any new skill so be patient with yourself. My E-Store has several nice kitchen resources, including recipes that are tweaked for healthier nutrition. Please give them a try!
What is an easy ingredient substitution you have used in a favorite recipe?